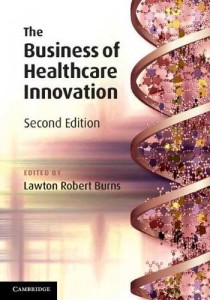 Description of The Business of Healthcare Innovation
The Business of Healthcare Innovation provides an overview of the innovative sectors fueling improvements in healthcare: pharmaceuticals, biotechnology, platform technology, medical devices and information technology. For each sector, the book examines the basis and trends in scientific innovation, the business and revenue models pursued to commercialize that innovation, the regulatory constraints within which each sector must operate and the growing issues posed by more activist payers and consumers. Now in its second printing, the 2012 edition updates the book to include the latest developments in healthcare.
Carefully edited by Lawton R. Burns, Ph.D., M.B.A., Chair of The Wharton School's Health Care Management Department, The Business of Healthcare Innovation is standard reading for Wharton Health Care MBAs and is also intended for healthcare executives. Individual chapters in the book were written by a number of different healthcare experts.
Getting the 20% Off Coupon
Upon subscribing to the Health System Review weekly e-mail, you will be e-mailed a 20% off coupon code that you can use when purchasing The Business of Healthcare Innovation. This offer is valid until December 31st, 2012. Subscribers receive a complementary weekly e-mail containing a handful of the past week's most interesting articles on the healthcare system. Click here to subscribe and receive your coupon.